That which has been is what will be, That which is done is what will be done, And there is nothing new under the sun.
Ecclesiastes 1:9 NKJV
The content from the above verse suggests that predicted events will have a similar outcome to events that have already taken place in the past. This being the case, then there should be (for those of us that are interested in futuristic Bible prophecy) a past fulfilled prophetic event which can provide us with insight into our future.
AS THE DAYS OF NOAH
According to Yeshua, the end time events which lead up to His coming will have a similar outcome to those that Noah experienced.
For the coming of the Son of Man will be just like the days of Noah.
Matthew 24:37 KJV
THE STORY OF NOAH AND THE FLOOD
Noah's story of the flood is just that; a story which is based on a true event that has been past down for generations. A closer examination of tNoah's account reveals that this story, like other stories, contains four literary elements. These four elements are:
IN THE PAST
1. WHO? – NOAH AND HIS SEVEN FAMILY MEMBERS
Noah and his family ( a total of eight individuals) are identified as the only ones that the Most High is in a covenant with.
But I will establish my covenant with you, and you will enter the ark—you and your sons and your wife and your sons' wives with you.
Genesis 6:18 NKJV
2. WHAT? – NOAH WAS FOREWARNED
The story begins with the Most High forewarning Noah of an extinction level event we know as the flood.
I am going to bring floodwaters on the earth to destroy all life under the heavens, every creature that has the breath of life in it. Everything on earth will perish.
Genesis 6:17 NIV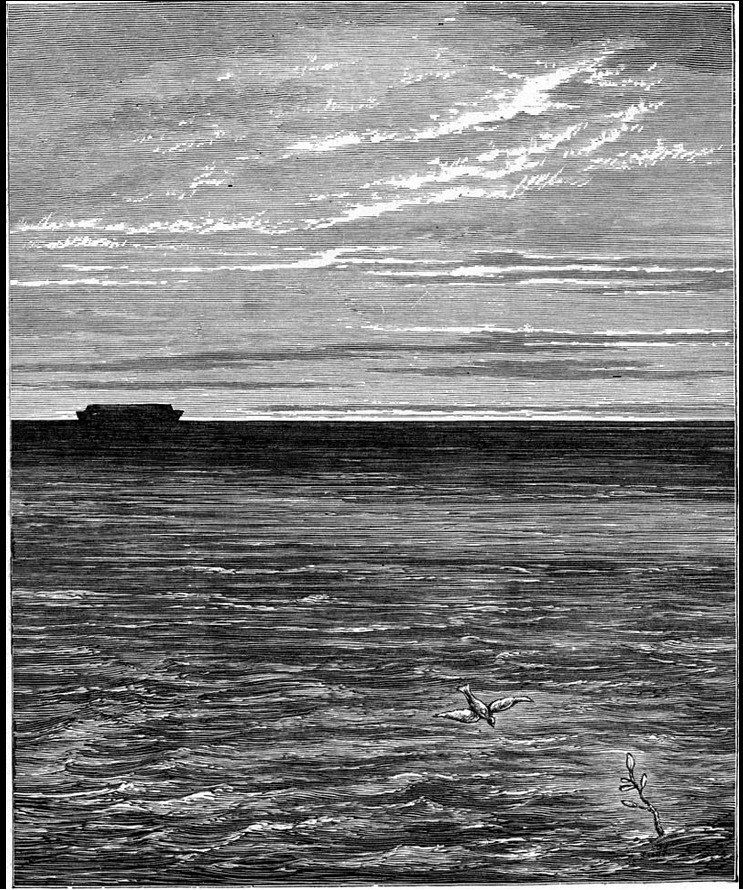 3. WHERE? – THE ARK
After forewarning Noah of the impending flood, the Most High didn't abandon Noah and his family to fend for themselves. Rather He provided them with detailed instructions on how to build the ark, which was the-place-of-refuge for Noah.
So make yourself an ark of cypress wood; make rooms in it and coat it with pitch inside and out. This is how you are to build it: The ark is to be three hundred cubits long, fifty cubits wide and thirty cubits high.
Genesis 6:14-15 NIV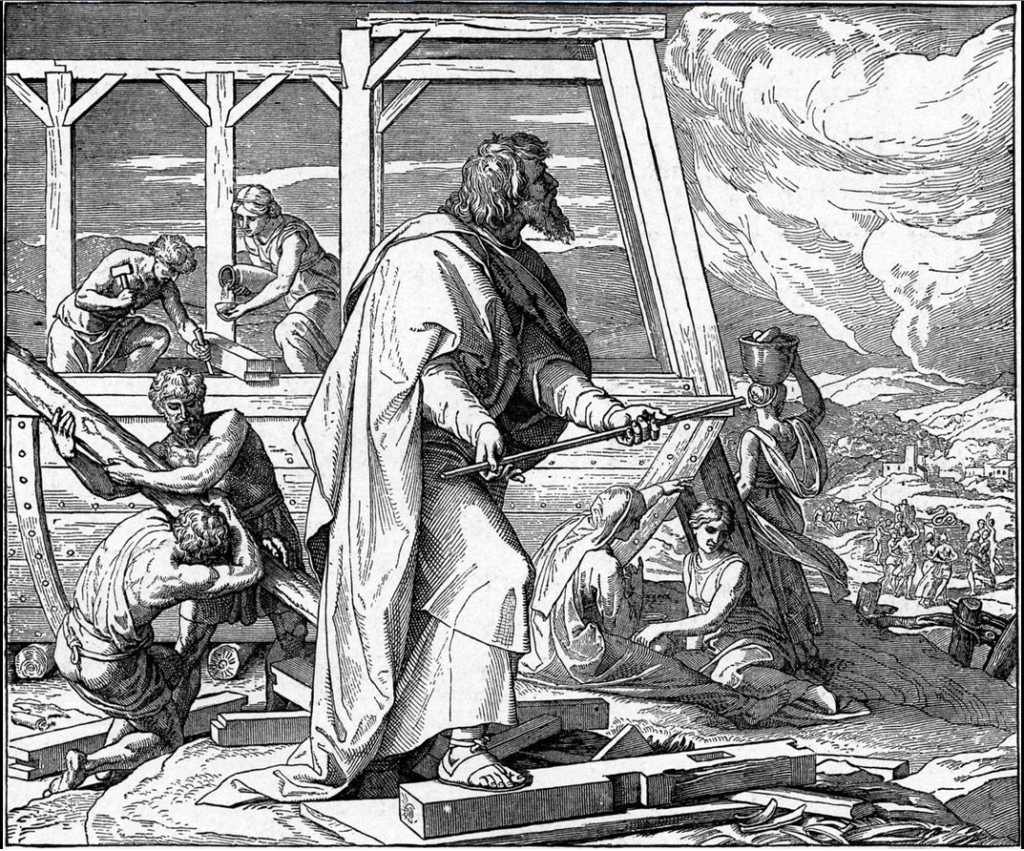 4. WHEN? – NOAH WAS INSTRUCTED TO ENTER THE ARK
With the construction completed, the Most High instructed Noah when to enter the ark.
And The Most High said unto Noah, Come, you and all your house into the ark; for you have I seen righteous before me in this generation.
Genesis 7:1 KJVm
A TEST
For Noah, building the ark was a test. Father didn't need Noah to build the ark so that a remnant of men and animals could be physically saved. He could have just as easily swept Noah, his family and the animals out of harms way. And if Noah hadn't followed the Most High's instructions, then he would have been purged and perish along with the rest of mankind. Fortunately, Noah was faithful.
PHYSICALLY SAVED
So in affect, the four elements for this story of the flood are divine survival instructions. And fortunately for us, Noah faithfully followed these instructions, resulting in Noah, his family and the remnant of animals being physically saved.
TODAY
Inadvertently, we find ourselves facing the same issues that confronted Noah. That said, there is a significant difference between our story and that of Noah's. And that difference is, that the account of Noah was written after the flood had taken place. Our story, on the other hand, has already been written, but has yet to be played out.
A STORY TOLD IN ADVANCE
I'm not suggesting predestination. I am suggesting, however, that Bible Prophecy is a story told in advance, And just as Noah's story contains four literary elements, likewise, the prophetic scriptures that are about to unfold is also a story which contains these same four literary elements.
WHO – WORTHY TO ESCAPE
WHAT – FOREWARNED
WHERE – PLACE OF REFUGE
WHEN – INSTRUCTIONS
This website addresses these four literary elements in order to discern the message being conveyed in the prophetic scriptures.
HOW TO USE THIS WEBSITE
Many of you are aware of a second Exodus, where "a Remnant of Israel" will be gathered back to the land of Israel which was promised to Abraham, Issac and Jacob. But did you know that the prophetic scriptures further describe a specific "place of refuge" where "the Remnant of Israel " will be protected for the 3 1/2 years of the Great Tribulation? The scriptures even provide events that act as "signs" which will indicate when this future Exodus has begun.
Exodus X addresses these major issues and more, in an effort to help prepare you for the Greater Second Exodus when it begins. For your convenience, this introduction briefly explains how this website works.
Notice in the left sidebar that there are six pages for you to choose from. The first is the link to this introduction page that you are presently reading.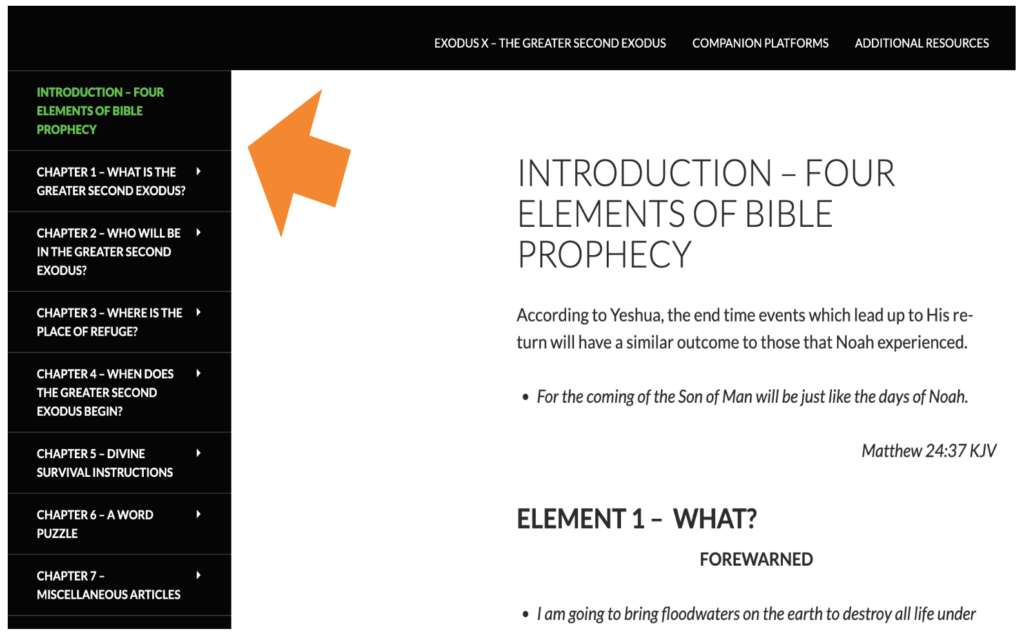 SEVEN CHAPTERS
The next seven links are short chapters which provide a brief overview of the Greater Second Exodus.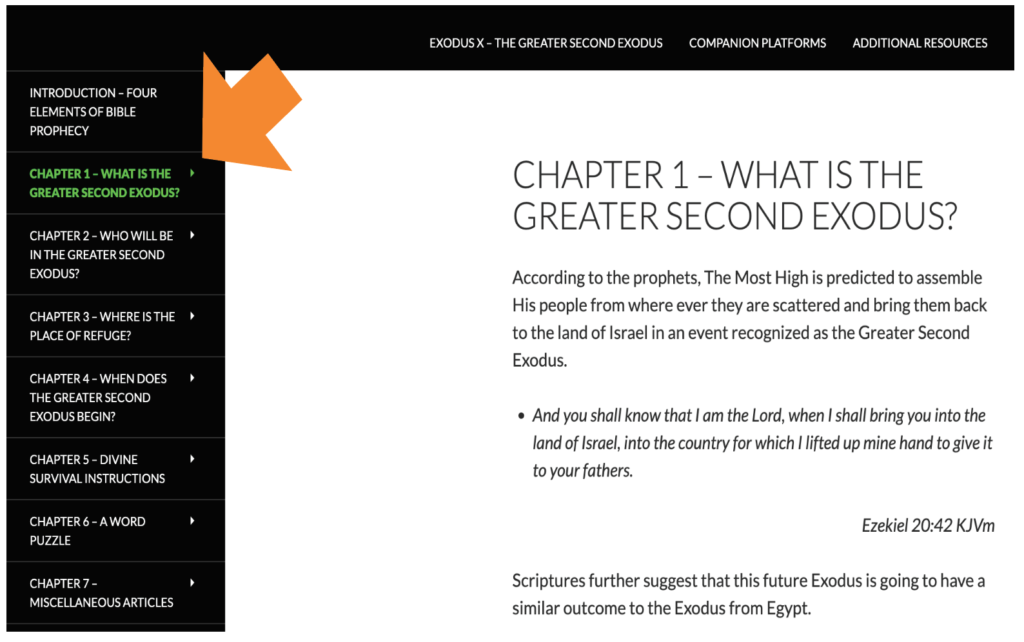 The topics of these seven chapters are:
Chapter 1 – WHAT is the Greater Second Exodus?
Chapter 2 – WHO are Those That Will be in the Greater Second Exodus?
Chapter 3 – WHERE is the Place of Refuge?
Chapter 4 – WHEN Does the Greater Second Exodus Begin?
Chapter 5 – Divine Survival Instructions
Chapter 6 – A Word Puzzle
Chapter 7 – Miscellaneous Articles
Notice that the first four chapters address the four literary elements of a story.
ARTICLES AND SUBARTICLES
Each chapter contains subsequent articles and subarticles which provides more details about the chapter.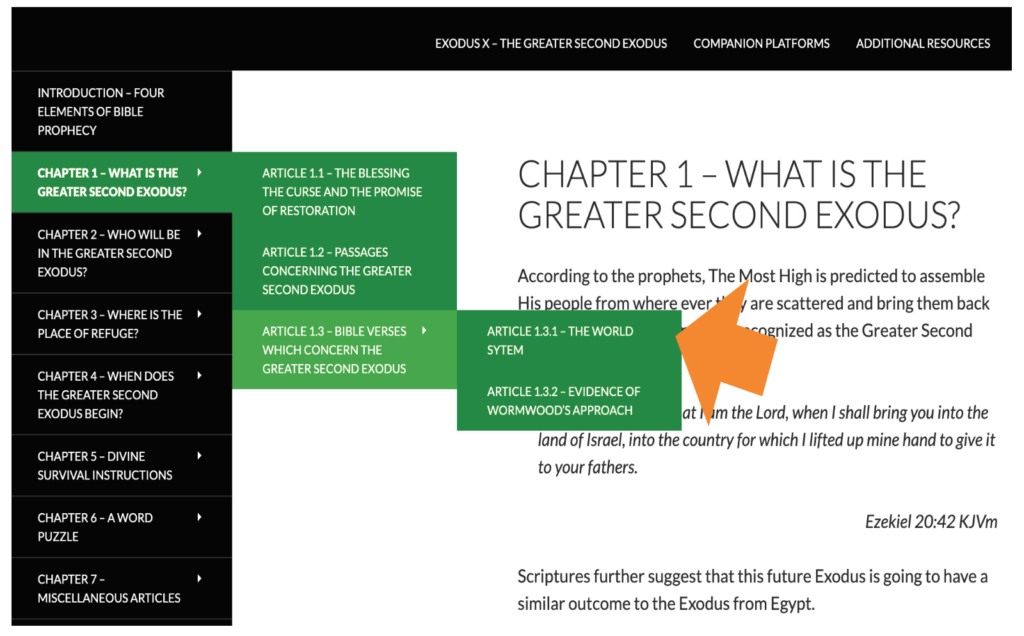 A link to the next article can be found toward the end of each chapter or article.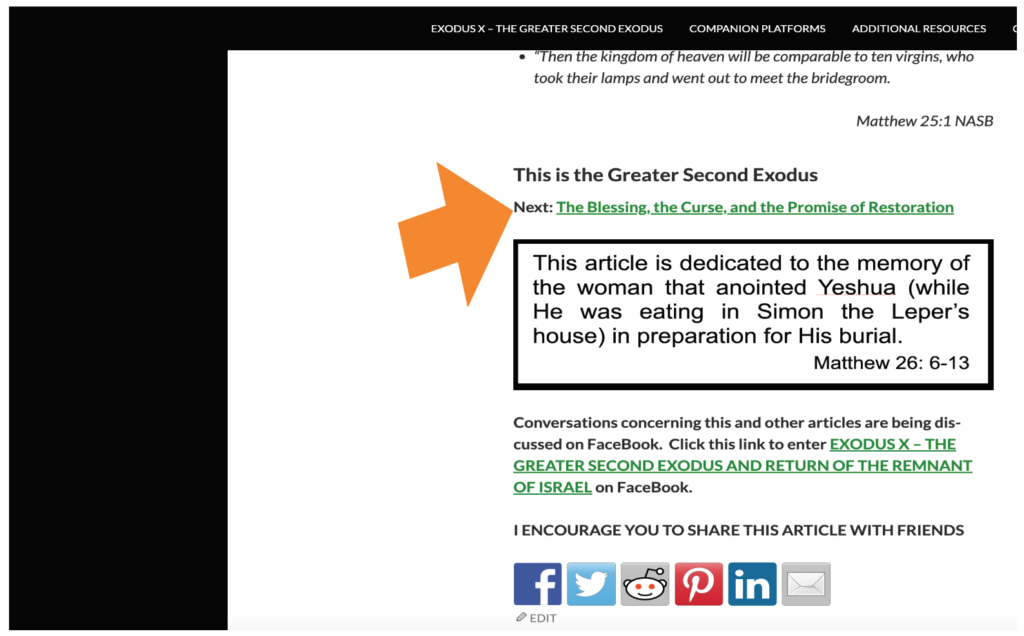 Also, there is a link to the FaceBook group that is a companion site to this website. I like to think of the FB group as a bulletin board where I post the latest updates and event which concern the Greater Second Exodus.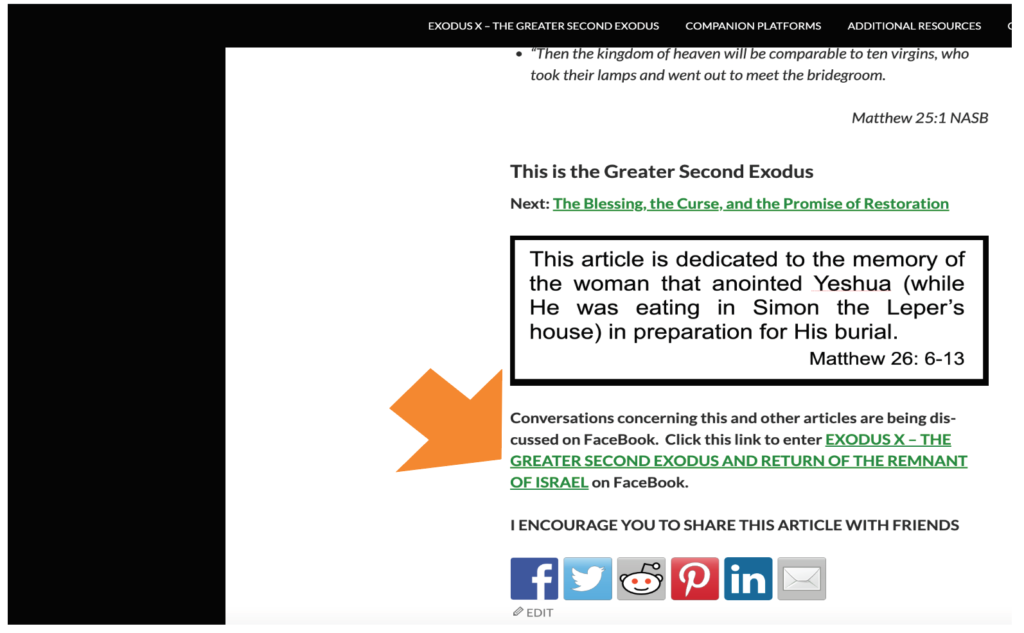 Next: CHAPTER 1- WHAT IS THE GREATER SECOND EXODUS?

I ENCOURAGE YOU TO SHARE THIS ARTICLE WITH FRIENDS