According to the prophets, The Most High is predicted to assemble His people from where ever they are scattered and bring them back to the land of Israel in an event recognized as the Greater Second Exodus.
And you shall know that I am the Lord, when I shall bring you into the land of Israel, into the country for which I lifted up mine hand to give it to your fathers.
Ezekiel 20:42 KJVm
Scriptures further suggest that this future Exodus is going to have a similar out come to the Exodus from Egypt.
I will bring you out from the peoples and gather you from the lands where you are scattered, with a mighty hand and with an outstretched arm and with wrath poured out; and I will bring you into the wilderness of the peoples, and there I will enter into judgment with you face to face. Just as I entered into judgment with your fathers in the wilderness of the land of Egypt, so I will enter into judgment with you," declares the Lord God.
Ezekiel 20:34-38 NASB
In this article, we are going to determine the purpose of the Greater Second Exodus by examining the Exodus from Egypt and compare these findings with what we know about future predicted events.
Prior to the start of the Exodus from Egypt, "the Children of Israel" were forewarned that The Most High was going to send plagues…
For I will at this time send all my plagues upon your heart, and upon your servants, and upon your people; that you may know that there is none like me in all the earth.
Exodus 9:14 KJVm
… as "judgment" against Egypt…
And He said unto Abram, know of a surety that your seed shall be a stranger in a land that is not theirs, and will serve them; and they shall afflict them four hundred years; And also that nation, whom they will serve, shall I judge: and afterward shall they come out with great substance.
Genesis 15:13-14 KJVm
… in an effort to gain their release so that "the Children of Israel" could go to "the promised land"…
So I have come down to deliver them from the power of the Egyptians, and to bring them up from that land to a good and spacious land, to a land flowing with milk and honey.
Exodus 3:8 NASB
… to serve The Most High.
And the Lord said to Moses, rise up early in the morning, and stand before Pharaoh, and say unto him, "thus says the Lord God of the Hebrews, Let my people go, so that they may serve me."
Exodus 9:13 KJVm
Likewise, today we are forewarned of apocalyptic plagues…
And I saw another sign in heaven, great and marvellous, seven angels having the seven last plagues; for the wrath of God will be completed in them.
Revelation 15:1 KJVm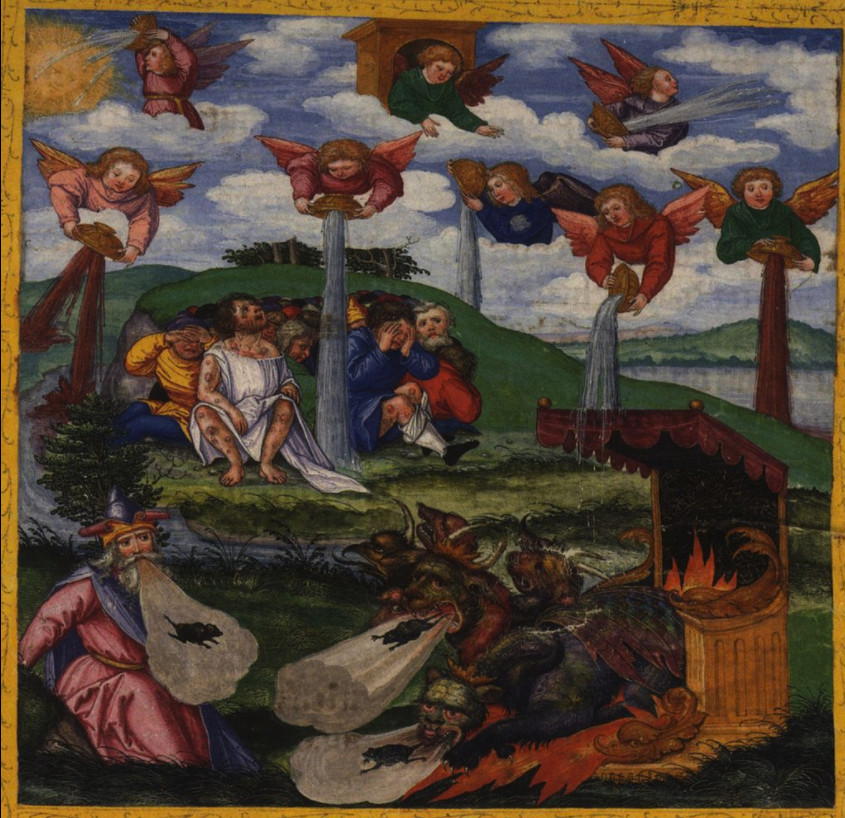 …which are also "judgment" plagues that will devastate the World System.
Therefore her plagues will come in one day, death, and mourning, and famine; and she shall be utterly burned with fire: for strong is the Lord God who judges her.
Revelation 18:8 KJVm
Therein, The Most High's people will be "called" …
I heard another voice from heaven, saying, "Come out of her, my people, so that you will not participate in her sins and receive of her plagues;
Revelation 18:4 NASB
… from the "countries" where they have been "scattered"…
I will accept you with your sweet savour, when I bring you out from the people, and gather you out of the countries wherein you have been scattered; and I will be sanctified in you before the heathen. And ye shall know that I am the Lord, when I shall bring you into the land of Israel, into the country for the which I lifted up my hand to give it to your fathers.
Ezekiel 20:41-42 KJVm
…to "a place" where they will be protected…
And to the woman were given two wings of a great eagle, that she might fly into the wilderness, into her place, where she is nourished for a time, and times, and half a time, from the face of the serpent.
Revelation 12:14 KJV
…so that they will be alive to greet Yeshua at His return.
"Then the kingdom of heaven will be comparable to ten virgins, who took their lamps and went out to meet the bridegroom.
Matthew 25:1 NASB
This is the Greater Second Exodus
Next: Who Will be in the Greater Second Exodus?

Conversations concerning this and other articles are being discussed on FaceBook. Click this link to enter EXODUS X – THE GREATER SECOND EXODUS AND RETURN OF THE REMNANT OF ISRAEL on FaceBook.
I ENCOURAGE YOU TO SHARE THIS ARTICLE WITH FRIENDS