Previously, we found that
For the coming of the Son of Man will be just like the days of Noah. (Matthew 24:37 KJV)
According to the Son of Man, the end time events which lead up to His return will have a similar outcome to those that Noah experienced.
1.

 

WHAT 
FOREWARNED
I am going to bring floodwaters on the earth to destroy all life under the heavens, every creature that has the breath of life in it. Everything on earth will perish. (Genesis 6:17 NIV)
PAST  
In the past, we know that Elohim forewarned Noah of an extinction level event we know as the flood.
For then shall be Great Tribulation, such as was not since the beginning of the world to this time, no, nor ever shall be (Matthew 24:21 KJV)
TODAY 
Likewise today, we are forewarned of an apocalyptic period known as The Great Tribulation……
 And except those days should be shortened, there should no flesh be saved: but for the elect's sake those days shall be shortened. (Matthew 24:22  KJV)
…which also concludes with an extinction level event… but for the elects sake Elohim is going to divinely intervene.  
Which brings us to our next element.
2.

 

WHO 
WORTHY TO ESCAPE
But I will establish my covenant with you, and you will enter the ark—you and your sons and your wife and your sons' wives with you. (Genesis 6:18 NIV)
PAST 
In the past, Noah and his family are identified as those individuals that Elohim deemed worthy to escape the coming flood.
TODAY
Watch therefore, and pray always, that you may be accounted worthy to escape all these things that shall come to pass, and to stand before the Son of Man. (Luke 21:36 KJVm)
Similarly today, the Son of Man describes individuals that will be found worthy to escape the predicted Apocalypse and will be alive at His second coming. 
For thus says 
יהוה. 
 Sing with gladness for Jacob and shout among the chief of the nations: publish you, praise you, and say, 
יהוה
 save your people,
the remnant of Israel.
(Jeremiah 31:7 KJVm)
In that day,  the remnant of Israel, and those of the house of Jacob who have escaped, will never again rely on the one who struck them, but will truly rely on the Lord, the Holy One of Israel. (Isaiah 10:20 KJVm)
This scriptures identify these worthy individuals as "the Remnant of Israel."
3.

 

WHERE
THE PLACE OF REFUGE
So make yourself an ark of cypress wood; make rooms in it and coat it with pitch inside and out.  This is how you are to build it: The ark is to be three hundred cubits long, fifty cubits wide and thirty cubits high. (Genesis 6:14-15 NIV)
PAST
After forewarning Noah of the impending flood, Elohim didn't abandon Noah and his family to fend for themselves.  Rather He provided them with detailed instructions on how to build the ark, which was the-place-of-refuge for Noah.
But she was given two wings like those of a great eagle, to fly into the wilderness to the place prepared for her, where she was cared for and protected from the Serpent, the Dragon, for three and a half years.  (Revelation 12:14 TLB)
TODAY
Likewise today, the scripture describe a "place" that has been prepared for "the Remnant" to be protected from Satan during th 3 1/2 years of the Great Tribulation.
Isaiah 37:32
For out of Jerusalem shall go forth a remnant, and they that escape out of mount Zion: the zeal of 
יהוה
 of hosts shall do this.
According to the scriptures, that place is the Old City of Jerusalem…
In that day shall יהוה defend the inhabitants of Jerusalem… (Zechariah 12:8 KJVm)
… where יהוה is going to protect the inhabitants of Jerusalem.
4.

 

WHEN
INSTRUCTIONS
Andיהוה said unto Noah, Come, you and all your house into the ark; for you have I seen righteous before me in this generation. (Genesis 7:1 KJVm)
PAST
With the construction completed, Elohim instructed Noah to enter the ark.
TODAY
When you therefore shall see the abomination of desolation, spoken of by Daniel the prophet, stand in the holy place, (whoever reads this, let him understand:) Then let them which be in Judaea flee into the mountains: (Matthew 24:15-16 KJVm)
Today, end time prophetic scriptures also contain WHEN instructions.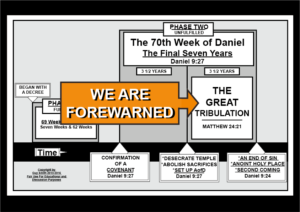 And for those of you that do heed these instructions, YOU need to understand that this act of desecrating the Holy Place  by the Abomination, is the sign to flee to Elohim's place-of-refuge identified in this passage as "the mountains."  This is WHEN information and the fourth element of Bible prophecy.
IN REVIEW
So the initial evidence is that past fulfilled and future unfullfiilled prophetic scriptures both contain the four elements of Bible prophecy.
DIVINE SURVIVAL INSTRUCTIONS
WHAT – FOREWARNED
WHO – WORTHY TO ESCAPE
WHERE – PLACE OF REFUGE
WHEN – INSTRUCTIONS
And that Elohim, has not abandoned us to fend for ourselves.  Rather, Elohim through the prophetic scriptures is providing those of you found worthy to escape the impending apocalypse with Divine Survival Instructions, just as He provided instructions for Noah.