Many of you are aware of a second Exodus, where "a Remnant of Israel" will be gathered back to the land of Israel which was promised to Abraham, Issac and Jacob. But did you know that the prophetic scriptures further describe a specific "place of refuge" where "the Remnant of Israel " will be protected for the 3 1/2 years of the Great Tribulation?   The scriptures even provide events that act as "signs" which will indicate when this future Exodus has begun.
Exodus X addresses these major issues and more, in an effort to help prepare you for the Greater Second Exodus when it begins. For your convenience, this introduction briefly explains how this website works.
Notice in the left sidebar that there are six pages for you to choose from.   The first is the link to this introduction page that you are presently reading.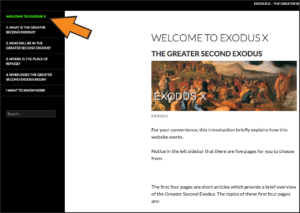 The next four links are short articles which provide a brief overview of the Greater Second Exodus.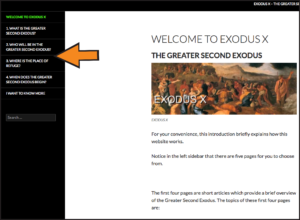 The topics of these four articles are:
WHAT IS THE GREATER SECOND EXODUS?

WHO ARE THOSE THAT WILL BE IN THE GREATER SECOND EXODUS?

WHERE IS THE PLACE OF REFUGE?

WHEN DOES THE GREATER SECOND EXODUS BEGIN?
The sixth page provides you with access to additional links that provide more details which are designed to help you prepare for the Greater Second Exodus. If  you want to know more, just hover your mouse over the sixth page and a drop down menu will provide you with links to these additional articles.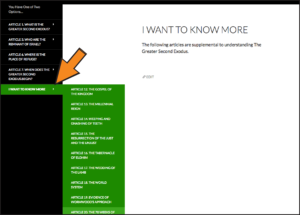 Now, if you are ready to begin, you can go to the column on the left and click on the link of your choice or you can click on the link below.
1. What is the Greater Second Exodus?
I ENCOURAGE YOU TO SHARE THIS ARTICLE WITH FRIENDS