THE SON OF MAN STATED THAT HIS RETURN WOULD BE AS THE DAYS OF NOAH
For the coming of the Son of Man will be just like the days of Noah.
Matthew 24:37 NASB
NOAH FOREWARNED OF THE EXTINCTION-LEVEL EVENT WE KNOW AS THE FLOOD
And Elohim said to Noaḥ, "The end of all flesh has come before Me, for the earth is filled with violence through them. And see, I am going to destroy them from the earth.
Genesis 6: 13 ISR
NOAH WAS PROVIDED DIVINE SURVIVAL INSTRUCTIONS
"Make yourself an ark of gopherwood. Make rooms in the ark, and cover it inside and outside with a covering.
"And this is how you are to make it: The length of the ark is three hundred cubits, its width fifty cubits, and its height thirty cubits.
Genesis 6: 14-15 ISR
LIKEWISE, WE ARE FOREWARNED OF AN EXTINCTION LEVEL EVENT
And except those days should be shortened, there should no flesh be saved…
(Matthew 24:22a KJV)
SIMILARLY, WE ARE ALSO PROVIDED DIVINE SURVIVAL INSTRUCTIONS
A PLACE PREPARED BY ELOHIM
And the woman fled into the wilderness, where she has a place prepared of Elohim, that they should feed her there for 1260 days.
Revelation 12:6 KJVm
A PLACE WHERE THE WOMAN IS PROTECTED FROM THE SERPENT FOR 3 1/2 YEARS
And the woman was given two wings of a great eagle, to fly into the wilderness to her place, where she is nourished for a time and times and half a time, from the presence of the serpent.
Revelation 12:14 ISR
THIS IS THE SAME 3 1/2 YEARS THAT THE BEAST RULES
And the dragon stood on the sand of the seashore.
Then I saw a beast coming up out of the sea, having ten horns and seven heads, and on his horns were ten crowns, and on his heads were blasphemous names. 2 And the beast that I saw was like a leopard, and his feet were like those of a bear, and his mouth like the mouth of a lion. And the dragon gave him his power and his throne, and great authority. 3 I saw one of his heads as if it had been fatally wounded, and his fatal wound was healed. And the whole earth was amazed and followed after the beast; 4 they worshiped the dragon because he gave his authority to the beast; and they worshiped the beast, saying, "Who is like the beast, and who is able to wage war with him?" 5 A mouth was given to him speaking arrogant words and blasphemies, and authority to act for forty-two months was given to him.
Revelation 13:1-5 NASB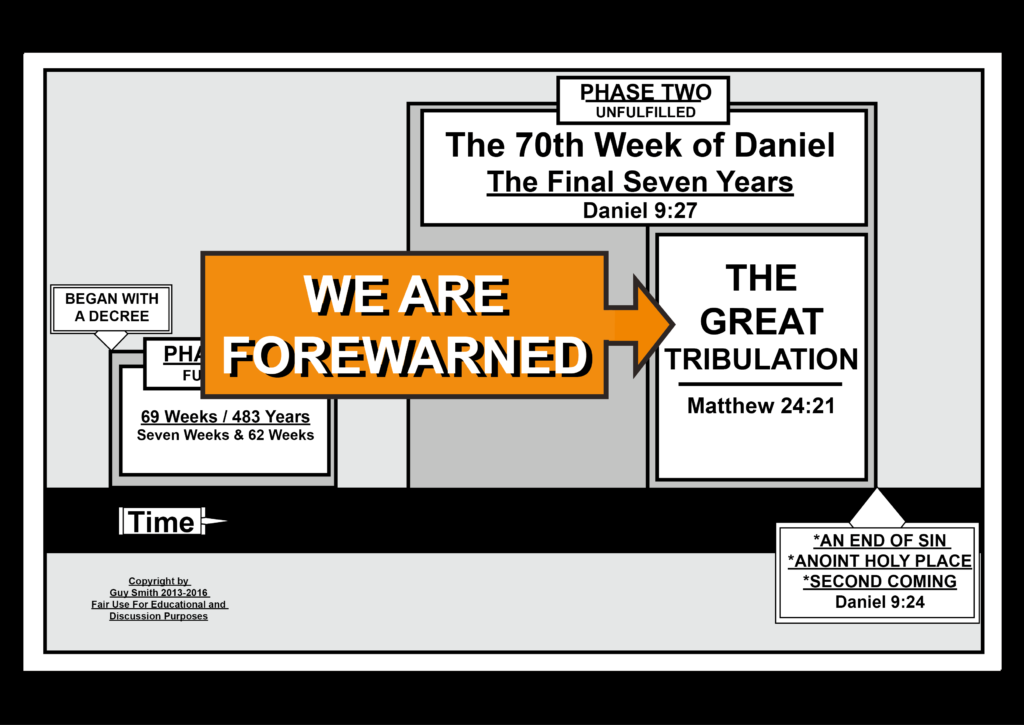 MOUNT ZION IN JERUSALEM / A PLACE PREPARED BY ELOHIM
And it shall come to pass, that whosoever shall call on the name of YHWH shall be delivered: for in mount Zion and in Jerusalem shall be deliverance, as YHWH has said, and in the remnant whom YHWH shall call.
Joel 2:32 KJVm
IN REVIEW
JUST AS NOAH WAS PROVIDED DIVINE SURVIVAL INSTRUCTIONS TO PHYSICALLY ESCAPE THE FLOOD, END-TIME BELIEVERS ARE ALSO PROVIDED WITH DIVINE SURVIVAL INSTRUCTIONS.
THESE SURVIVAL INSTRUCTIONS INCLUDE A PLACE OF REFUGE AND A TIMELINE INDICATING WHEN BELIEVERS MUST BE IN THIS DIVINE "PLACE" IN ORDER TO PHYSICALLY ESCAPE THE PREDICTED JUDGMENT.

I ENCOURAGE YOU TO SHARE THIS ARTICLE WITH FRIENDS